What is ICT?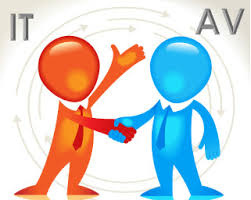 Information Communications Technology (ICT) refers to all the technology used to handle telecommunications, broadcast media, intelligent building management systems, audio-visual processing, transmission systems, network-based control and monitoring functions.
Although ICT is often considered an extended synonym for information technology (IT), its scope is broader.
ICT has recently been used to describe the convergence of several technologies and the use of common transmission lines carrying very diverse data and communication types and formats.
Rapidly evolving ICT, audio visual and communication industries ensures Prestige Technology remains at the cutting edge. Embracing the ever-changing nature of the industry, and emerging standards for technology, our team is committed to regular professional development and implementation for all our clientele.
Prestige AV Technology offers a proficient consultancy implementation service, with professional, experienced personnel delivering turnkey services. We work hard to uphold our professional reputation for high standards of engineering design and implementation, whilst working closely with our clients to provide uniquely tailored solutions.
Our academic and technical staff have extensive experience with:
Wireless (Wi-Fi) and radio frequency (RF) systems
Media Distribution
Incoming telecommunications services
Communications infrastructure backbone
Structured voice and data cabling design
Cable support systems
Network communications design
Integrated systems for intelligent buildings
Distributed antenna systems
Patient entertainment systems
Incoming IPTV and MATV terrestrial and satellite services
ICT
Audio visual space design
Distributed digital signage and video wall solutions
Distributed television and IPTV