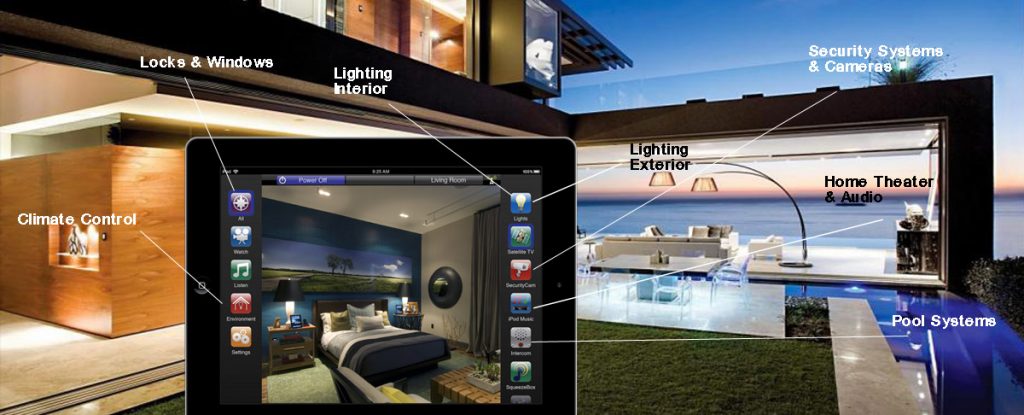 The Advanced Home Technology Design is the standard for new homes looking to be Smart Home ready.
But what do we mean by home automation?
Home automation is when different technologies and systems are integrated together into a single control system which allows one system to automatically control another without you explicitly having to request every action.
Sounds complicated? It really isn't.
Imagine easy control of your home theatre / media room, iPod, house lighting, security system, climate, motorized curtains & blinds, surveillance cameras, and your pool/spa with your new home automation system. This "smart home" technology is also referred to as systems integration. It allows access and control of all your home's subsystems with simplicity that can be compared to using a microwave. It is so easy anyone can use it. Intuitive touchscreen icons allow total control of your home with no instruction manual needed!
Our intuitive touch screen interfaces and SMART technology make it easy for you to control your systems and we can even integrate programmed schedules, meaning you can sit back and let our clever systems do all the work for you. That's right—we can even design your system so that your heating and lighting come on only when your home or room detects movement! Best of all, however complicated your vision, we make it all come together in a way that is completely easy-to-use and simple for you using our unique 'two-way' backup systems that ensure absolutely no down time.
Our vision of perfection we share with all our customers, creating the wow factor every time you walk into your home, We are installing tomorrows technology today.
Our home automation solutions are designed for you:
Multi room Audio Video
Surround sound
Home cinema installations
Home CCTV security
Automated lighting
Occupancy simulation
Data and communications
Heating and cooling