Brighton Le sands Residence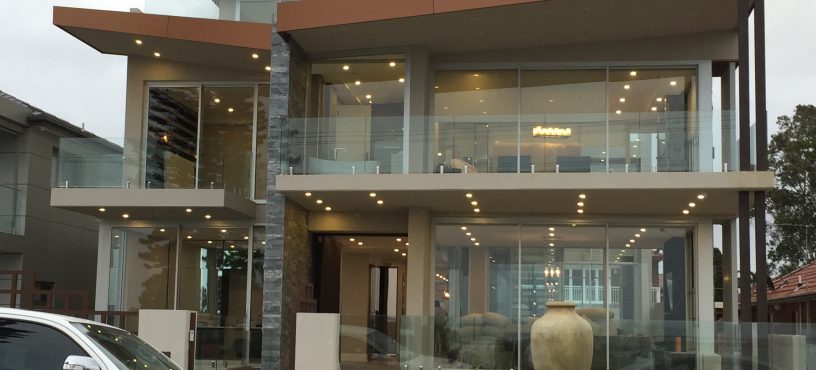 Hotel in a home!
Owner and builder George Kocowski had quite a challenge for Prestige on his hands.
George was constructing a hotel in a 4 story home. Late into the piece of construction George engaged Peter to design a solution incorporating:
14 LED TV screens 1 in each bedroom and 4 formal living areas, 10 Audio Zones with 22 speakers, 5 visual inputs, 5 foxtel boxes, 2  Cinema rooms, wireless and wired internet connectivity throughout and fully automated home which controlled reverse cycle Climate air con, CCTV, Security alarm, Lighting and Pool temperature control.
The fun part was that the plasters were coming in 7 days to start sheeting the ceiling!!!
We took to our suppliers and incorporated a solution utilising URC Total control system, Cbus Lighting interface, Blustream HDbaset Matrix, Niles in ceiling speakers, Samsung LED panels and five Apple iPad for user interface. MK 9.1 surround system and an Epson projector shooting on a huge 100"projection screen basement cinema, level 2 cinema his existing 65″ TV screen with Bowers & Wilkins 7.2 surround sound system.  Our favourite little piece is the rooftop.  We couldn't penetrate the walls due to waterproofing already applied so we decided to place 2 Rock speakers positioned on the floor of the top deck, a nice clean look with  fabulous sound and view to enjoy.
The overall project was quite a challenge, but the look on the client's face at the end of the project was what we all love to see, and a smile that extends for days on end.
In George's words
"I can't use this – it's too advanced. Give the iPad to the kids" After ten minutes of training, "Wow that's it, it's way too easy, i love it"